Advertisement

Name: John Le Fevre
Hometown: Melbourne, Australia
Occupation: Photo-journalist, editor, PR consultant, SEO, SEM, SNM specialist, and deejay.
Email: photo_journ[AT]photo-journ[DOT]com
Follow me on Twitter: @fotojourn
I started working as a journalist at Australian Photographic & News Service (APNS) in 1975 and completed a four-year cadetship in journalism and press photography.
In the mid 80s I worked on high technology trade press (Computing Australia, MacNews Australia, MacUser Australia) before starting my own full-service above and below the line marketing and public relations consultancy, JLF Promotions. For a decade it serviced some of the biggest names in the high technology sector in Australia (Microsoft, Hewlett Packard, Prime, Fujitsu, Platinum Software, Adaptive Electronics, etc).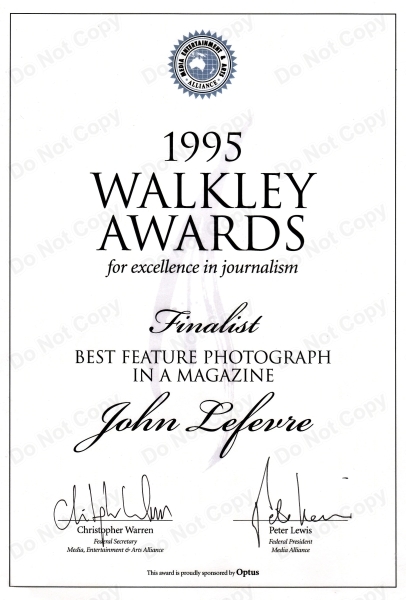 At the same time I continued my journalism career, writing on topics where there was no conflict with any of the PR accounts my company was handling, spending increasing periods overseas until its sale in 1995.
These included: engineering, construction, commodities, infrastructure, oil & gas, tourism, healthcare, transportation, human rights, developing nations' issues, business, investigative, and general feature writing.
I have spent considerable time working in Africa and Asia, with stints in the Middle East, the USA, and England, and have held the position of bureau chief, editor, news editor, CoS, copy editor, and chief copy editor.
In 1995 I was a Walkley Award finalist for my photographic coverage of the Ebola outbreak in Zaire for The Australian Colour Magazine.
In the late 90s I established and ran a news and photo bureau in Indonesia for an international news and photo agency.
At the same time I operated a guest house and nightclub, continuing the deejaying I had started in the early 90s. I play house, tribal, progressive house, trance, hard trance, psy trance, and hard dance.
I used to regularly play in Bali and Lombok, as well as at my own club and have played on a couple of international tours with some big-name clubbing music promoters.
Significant events I have covered over the years include:
1985 Mad Max Noble Park police killings and hunt
1986 Russell Street police bombing
1990 Operation Desert Shield
1991 Operation Desert Storm
1991 Election riots (pillage) in Zaire
1994 Rwandan genocide
1995 Ebola outbreak in Zaire
1999 Independence referendum and violence in East Timor
2004 Asian Tsunami
2009 Songkran riots in Bangkok
2010 Battle for Bangkok protests
2013 Anti-democracy putsch in Thailand
2014 Thailand coup
I have produced style guides for use by journalists and editors. and in the past was active on the Australian Journalists Association (AJA) (subsequently absorbed by the Media Entertainment and Arts Alliance (MEAA) freelance committee. I write my own text, shoot my own stills, and also shoot and edit videos.
I have experience at content creation, development and management, SEO and keyword implementation, as well as in the implementation of social network marketing (SNM) strategies designed to increase website traffic.
This blog contains topics that I find interesting, with some articles dating back to 1996. Often the stories here are the full, original versions of articles published elsewhere, or material that was produced in excess of that required for articles published elsewhere. Sadly, all of my historic photos were destroyed by the thieving, manipulative and unaccountable State Trustees, who removed them from their place of storage at my parents house and disposed of them.
No payment is received for content appearing on this blog (See: Blog disclosure policy)
I hope you find the topics interesting and informative. Backlinks and pingbacks are welcome from other sites, but the wholesale lifting / copying of content is not.
Unless acknowledged otherwise I, John Le Fevre, hold the copyright to all material on this website.
For questions about this blog, please contact photo_journ[AT]photo-journ[DOT]com.
Articles about John Le Fevre
The House Style Guide
Every time a journalist writes an article they have the potential of having their material read by millions of people. It is a privilege that goes with the role of labelling oneself a journalist.
The privilege also carries with it a degree of responsibility. Responsibility to not only report on the subject matter truthfully and without unnecessary bias, but also a responsibility to use clear and concise language free of ambiguity and clichés to ensure the maximum number of people possible have a clear understanding of all of the aspects being reported on.
Clear storytelling and language is at the heart of good journalism. Rather than being a luxury, it is an obligation.
Newspapers and news agencies use style guides such as this one to help ensure that where there are variants in spelling, the use of acronyms and so forth, a consistent approach is adopted to help in disseminating a sense of rationality and authority in the use of language.
It is of little relevance whether you are writing for a capital city daily newspaper, or a neighbourhood community newsletter, consistency and the use of the correct words and grammar will vastly improve the degree to what you are writing is understood.
Editors and and sub-editors (copy editors) should be aware that they can do not greater disservice to the text before them and the writer, the reader, and the publication, than to impose their own preferences for words based on a pedantic insistence on grammar as it used to be taught in school. Doing so runs the risk of destroying nuances and possibly even the flow of a piece.
The House Style Guide began as a collection of notes and loose-leaf pages in the 90s and was eventually pulled into its current form in the mid-2000's. The primary aim was to have a resource that journalists and sub-editors could reach for when they wanted to check word usage or spelling, or needed some basic information about a country or region they were writing on. At the time of its inception the Internet was in its infancy and not every newsroom, let alone every journalist in a newsroom, had online access.
It was additionally designed to provide basic information on writing and journalism for new hires, those wishing to pursue a career in journalism, or people wishing to become contributors to publications I worked on.
In addition to many pages of words, their meanings and usage, the reader will also find sections on traditional proofreading and markup, as well as publication production. The country sections at the end of the book are hopelessly out of date, and are superfluous in an era of almost constant online access. They been left in for historic reasons.
You can download your own version of The House Style Guide by clicking the cover image on the right. It is provided for information purposes only. Some content may no longer be accurate.
Over the years
1983
__________________________________________________
1995
__________________________________________________
2008
__________________________________________________
2009
__________________________________________________
2010
__________________________________________________
2013
__________________________________________________
2015
__________________________________________________
2019
__________________________________________________
2020
__________________________________________________
2021
__________________________________________________