Advertisement

A Bangkok monk says claims by the Thailand government that the army only fired blanks at red-shirted pro-democracy supporters at Din Daeng last Monday (April 13) are not true and that those shot include a Buddhist monk.
The accusations by the head monk of a Bangkok city temple come despite repeated claims by Thailand Prime Minister Abhisit Veijajiva that the only fatalities from the government crack-down on pro-democracy supporters were the result of clashes between protesters and residents in the Nang Lerng market area on Monday night.
The monk, who chose the pseudonym, Sajja' (the word truth in Thai) for his safety and asked that his temple not be named, said he went to the Din Daeng area around 6.00am on April 13 after hearing reports of clashes earlier that morning between the Thai army and red-shirt protesters.
According to Sajal, when he got to Din Daeng he saw "bodies loaded in a refrigerated truck, including a monk. The roadway was wet as if it had just been hosed down", he said.
Many people killed
Prakal Riddiloy, a Phak Puea Thai (PPT) complaints officer said, we know many people have been killed, hurt or are missing after the military action earlier this week. We intend to raise this matter as soon as parliament opens next week.
The state of emergency and clash between red shirt protesters loyal to fugitive former prime minister Thaksin Shinawatra and government troops was the latest in long-running back-and-forth battles over Thailand's political future following the ouster of the elected People's Power Party (PPP) government by a military coup d'état in September 2006.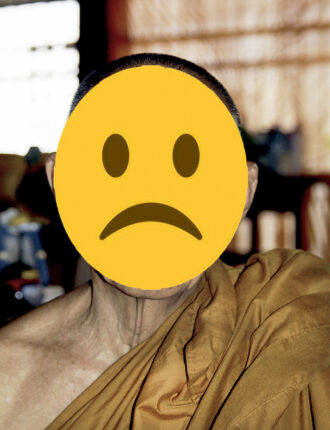 Late year hundreds of thousands of tourists were stranded after both of Bangkok's airports were seized by yellow-shirted People's Alliance for Democracy (PAD) supporters.
The siege ended when Thailand's Constitutional Court disbanded the ruling PPP under changes to Thailand's constitution introduced by the military junta in 2006.
Following the de-registration of the PPP a number of former government coalition members, including members of the PPP, switched sides enabling the Democrat Party led by Mr Abhisit to form government. Those PPP members who did not change sides formed the PPT party.
The so-called red shirts' formed under the United Front for Democracy against Dictatorship (UDD), a group with close links to Shinawatra, first laid siege to Thailand's Government House on March 26 demanding prime minister Abhisit dissolve parliament and call fresh elections.
The UDD stepped up its campaign against the government of Mr Veijajiva with a mass rally on April 8 which attracted some 150,000 people.
On April 11 thousands of red shirt protesters caused Thailand enormous loss of face when they stormed the luxury Royal Cliff Hotel and Resort in Pattaya forcing the 10 Asean member heads of state plus those of six regional dialogue nations to flee and the 14th Asean Summit to be postponed.
Video John Le Fevre
Related:
The following two tabs change content below.
John Le Fevre is an Australian national with more than 40 years experience as a journalist, photographer, videographer and editor.
He has spent extensive periods of time working in Africa and throughout Southeast Asia, with stints in the Middle East, the USA, and England.
He has covered major world events including Operation Desert Shield/ Storm, the 1991 pillage in Zaire, the 1994 Rwanda genocide, the 1999 East Timor independence unrest, the 2004 Asian tsunami, and the 2009, 2010, and 2014 Bangkok political protests.
In 1995 he was a Walkley Award finalist, the highest awards in Australian journalism, for his coverage of the 1995 Zaire (now Democratic Republic of Congo) Ebola outbreak.
Most recently he was the Thailand editor/ managing editor of AEC News Today . Prior to that he was the deputy editor and Thailand and Greater Mekong Sub-region editor for The Establishment Post, predecessor of Asean Today.
In the mid-80s and early 90s he owned JLF Promotions, the largest above and below the line marketing and PR firm servicing the high-technology industry in Australia. It was sold in 1995.
Opinions and views expressed on this site are those of the author's only. Read more at About me
Latest posts by John Le Fevre (see all)