Name: John Le Fevre
Hometown: Melbourne, Australia
Occupation: Photo-journalist, editor, PR
consultant, SEO, SEM, SNM specialist
and DJ.
Email: photo_journ At photo-journ DOT com
Skype: photo_journ
Yahoo! Messenger: photo_journ
Follow me on Twitter: @photo_journ
I started working as a journalist at APNS in 1975 and completed a four-year cadetship in journalism and press photography.
In the mid 80s I worked on high technology trade press before starting my own full-service above and below the line marketing and public relations consultancy that for a decade serviced some of the biggest names in the high technology market in Australia.
At the same time I continued my journalism career, writing on topics where there was no conflict with any of the PR accounts my company was handling.
These included: engineering, construction, commodities, infrastructure, oil & gas, tourism, healthcare, transportation, human rights, developing nations' issues, business, investigative, and general freelancing.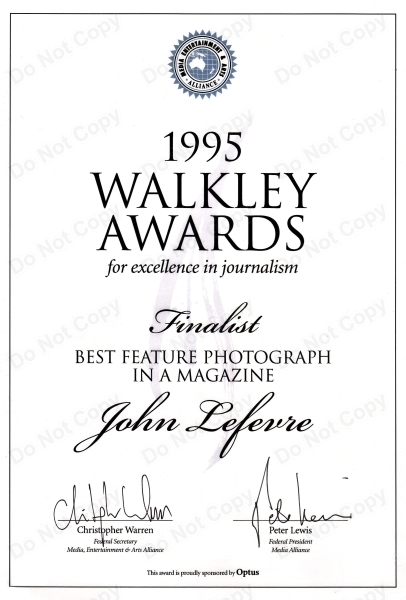 I have spent considerable time working in Africa and Asia and have held the position of bureau chief, editor, news editor, CoS, copy editor, and chief copy editor.
In 1995 I was a Walkley Award finalist for my photographic coverage of the Ebola outbreak in Zaire for The Australian.
In the late 90s I established and ran a news and photo bureau in Indonesia for an international news and photo agency.
At the same time I ran a bar and nightclub and continued the DJing I had started in the early 90s. I play house, tribal, progressive house, trance, hard trance, psy trance, and hard dance. I used to regularly play in Bali and Lombok, as well as at my own club and have played on a couple of international tours with some big-name DJs.
You can download some of my mixed sets by clicking the pre-mixed trance music tag.
Significant events I have covered over the years include: the 1991 election riots in Zaire; the 1994 Rwandan genocide; the 1995 Ebola outbreak in Zaire; the 1999 independence referendum in East Timor; the 2004 Asian Tsunami, the 2009 Songkran riots in Bangkok, and the 2010 Battle for Bangkok protests by pro-democracy proponents.
I have produced style guides for use by journalists and editors. and in the past was active on the journalists association freelance committee. I write my own text, shoot my own stills, and also shoot and edit video.
I have experience at content creation, development and management, SEO and keyword implementation, as well as in the implementation of social networking marketing (SNM) strategies designed to increase website traffic.
This blog contains things that I find interesting, with some articles dating back to 1996. Often the stories you find here are the full, original versions of articles published elsewhere. No payment is received for content appearing on this blog (see: Blog disclosure policy)
I hope you find the topics interesting and informative.
Backlinks and pingbacks are welcome from other sites, but the wholesale lifting/copying of content (Pattaya Daily News take note) is not.

Unless acknowledged otherwise I, John Le Fevre,  hold the copyright (Pattaya Daily News take note) to all material in this website. Articles and photos I hold the copyright for are available for purchase.
Articles about John Le Fevre
"Faces on Twitter" – John Le Fevre (@photo_journ)
Social Media for Journalists: An Interview with John Le Fevre
The world is a dangerous place, not because of those who do evil, but because of those who look on and do nothing —  Albert Einstein
About photo-journalist John Le Fevre & contact details

,