Advertisements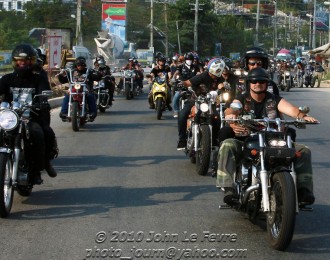 Enthusiasts of leather, body art, large loud motorbikes (and their often equally larger than life owners) and very loud cars will be descending en masse on the Thailand Eastern seaboard city of Pattaya next week (February 5 – 12) for the 14th annual Burapa Bike Week [2011].
For the best of the week leading up to the big final party night on February 12, the roads of Pattaya will assume a Daytona Beach-like appearance, with highly customized big-bore motorbikes, along with owners and riders from all over the world, often riding in groups, a common sight within the city.
Looking impervious to Pattaya's 34C (93F) temperatures in their rugged highway leathers, complete with eye-catching club membership patches proclaiming motorbike clubs such as Wolfmen, Mad Dogs, Bad Heaven and Deaths Messenger.
At a press conference to announce the coming weeks event, considered one of Southeast Asia's largest motorcycle rallies, organizers said they expected this years event to attract about 35,000 motorbike enthusiasts, with more than 15,000 bikes predicted to participate.
Organized by Pattaya Burapa Motorbike Club, the once-a-year charity fund raising event last year attracted riders from as far away as Europe, Scandinavia and the US, while a number also rode from Malaysia and Singapore to participate.
Although the highly personalized gurgling V-twin-cylinder bikes from Milwaukee bike manufacturer Harley Davidson constantly garner a lot of interest, most people cant help but also appreciate the the large 1500CC six-cylinder Honda Gold Wing's, bedecked with DVD/CD audio and video systems, body hugging light emitting diode ribbon lights, and enormous comfy seating.
About seven thousand bikers converged on Pattaya for last years 2010 Burapa Bike Week, with all hotels in the city and adjoining areas totally booked.
The annual Saturday early morning mass ride round the city and down through Jomtien is quite impressive, with hundreds of bikes joining in. On Saturday night a massive stage in the Pattaya Indoor Stadium staging grounds hosts some of Thailand's leading bands, with entry free to everybody.
At the same time in the car-park outside, some of the best mobile sound systems in Thailand assemble for an enormous car-park party, the amplifiers and speaker systems of up to 60 cars and trucks connected together, with top DJs spinning awesome dance music for the scantily clad dancing girls atop many of them.
People intending to go to the big Saturday night event should head to the exhibition location early though, as each year traffic is particularly heavy and erratic approaching the venue.
For more information call +66 (0)85 900 9049 or +66 (0)86 315 9374
Ends:
© 2011 John Le Fevre
Thailand • Thailand current events • Thailand tourism • Thailand travel • Bikers • Harley Davidson • Burapa Bike Week • Pattaya • Pattaya Bike Week
The following two tabs change content below.
John Le Fevre is an Australian national with more than 40 years experience as a journalist, photographer, videographer and copy editor.
He is currently Thailand editor/ managing editor for AEC News Today
Opinions and views expressed on this site are those of the author's only. Read more at About me
Latest posts by John Le Fevre (see all)