Advertisement

It occasionally comes as somewhat of a surprise that when some people discover the term "search engine optimisation" (SEO) that all rationale and logic to what otherwise might be a sound business strategy flies out the window in pursuit of little green dots in page rank graphs, or search engine results page (Serp) position.
Now don't get me wrong, page rank and where a website appears in organic search results is important if a site is to attract web traffic and if the internet is going to be an effective marketing tool for the products and/or services a company offers.
However, if too much attention is spent on these factors the risk is that the overall aim, that of generating sales, or at the very least interest in a company's products and services, will be lost.
Let's face it, the majority of websites are created to either sell or promote a company's products or expertise. At the end of the day the cost of developing and hosting a website should be seen as an investment and like all investments a positive return should be expected.
The time to concentrate on SEO and the identification of keywords you want to target should be as much a part of the website creation or update as the graphic design and programming elements.
To prevent duplicated effort keywords should be identified early on in the process and weaved throughout webpages at the time copy is being written, with sufficient human resources tasked with the process so that results are obtained in the shortest possible time.
Many a company has gone bankrupt in the past, or lost a competitive edge, because of dallying around in getting a great idea or concept to market.
Wholesale Thai handicrafts
I was recently performing some work for a Canadian/Thai company where logic and reasoning had all but disappeared in the pursuit of little green dots, Google search results, and not allocating sufficient human resources.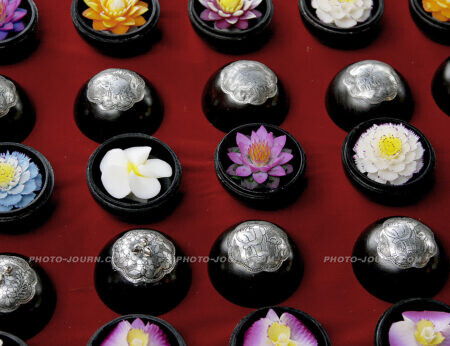 This company, which will remain unnamed, maintains a number of travel websites, as well as performs website development for offshore companies, the majority of which are based in North America.
The Canadian owner decided selling wholesale Thai handicrafts and wholesale Thai silk fashion and Thai silk fashion accessories was a market ripe for the tapping.
The in-house graphic design and programming team utilised the time in between developing websites for other people to put together the backbone of an eCommerce site over a couple of months so the company incurred no additional costs from that point.
However, when it came to filling the site with sellable items the project became something of a train wreck.
Customised Thailand holiday plans
Amongst the travel sites operated by this company was one designed to enable tourists visiting Thailand to have customised Thailand holiday plans developed for them.
The way it works is that Mr and Mrs Blogs would send an information request through the website saying they are planning a holiday in Thailand on these dates and would like a customised Thailand holiday plan covering x number of days, starting in such and such location and ending in another.
The prospective client would then detail what they would like to see included in their customised Thailand holiday plan, as well as what standard of hotel that should include.
Two staff members would then spend anything up to three days developing the customised Thailand holiday plan for the potential clients, noting names and locations of hotels, brief details of sites to be seen, and the cost, and then send the customised Thailand holiday plan to the prospective client.
Often the prospective client would want to make changes to the customised Thailand holiday plan and so more time was spent refining it.
This all sounds wonderful for Mr and Mrs Blogs and the travel agency, however, now armed with a detailed customised Thailand holiday plan that covers the number of days they want, includes the sort of sites they wish to see, and even lists the names of hotels along the way, the end result was that Mr and Mrs Blogs inevitably was never heard from again.
After all, why would Mr and Mrs Blogs need to pay hefty commissions to a Thailand travel agent, when all they need to do upon arriving in Thailand with their customised Thailand holiday plan is to find a driver and a vehicle and then follow the itinerary?
The service is, I suspect, also of great benefit to travel agents booking Thailand holidays for people who "want to do something different".
Simply log on to the website, give the details requested and then sit back and wait while a Thailand travel agency spends its time and human resources, along with its local knowledge in putting together a customised Thailand holiday plan FREE of charge.
In reality it's a travel agents dream. After a dew days a customised Thailand holiday plan pops up in the email inbox, complete with all the details necessary for a unique Thailand holiday, including the names of hotels and sites to be seen along the way AND the cost.
From here all any enterprising travel agent needs to do is check with the assortment of online hotel wholesalers, find the best prices available, book each hotel, find a driver and vehicle to undertake the journey and then pocket a nice commission for very little work.
The end result was that 99 per cent of these customised Thailand holiday plans ended up in no sales, while the time of two full time staff was heavily utilised in putting together customised Thailand holiday plans for people who may or may not have been genuine.
Website development train wreck
With the new wholesale Thai handicrafts website taking shape in development, the company owner decided that the two staff responsible for developing the customised Thailand holiday plans should also be the people responsible for putting together the range of items for the new wholesale Thai handicrafts website, as well as writing the descriptions for each item.
With insufficient human resources being devoted to the wholesale Thai handicrafts site, another train wreck was in the making.
Wholesale Thai handicrafts
Inevitably companies retailing or wholesaling Thai handicrafts almost always focus on handmade Thai silk fashion and handmade Thai silk fashion accessories. Thai silk fashion items and silk fashion accessories are found throughout the country and sourcing suppliers is as difficult as finding a girl in a bar there.
Handmade Thai silk fashion items and handmade Thai silk fashion accessories are one of the most common items found in markets and the handmade Thai silk fashion and handmade Thai silk fashion accessories industry is a multimillion dollar earner for Thailand.
In fact the handmade Thai silk industry and its reputation is so important to the country that Thailand's Agriculture Ministry uses a peacock emblem in four different colours to grade authenticate genuine Thai silk items and protect it from imitations.
Most tourists to Thailand don't know this, and overseas buyers almost certainly don't, but the peacock emblem serves as a guarantee of quality for specific Thai silk types and production processes. Most handmade Thai silk products sold by internet sales companies are supplied without a peacock sticker – an indication of their quality.
Likewise genuine Thai pewter products have a long association with the country and handcrafted Thai pewter tableware and Thai pewter dining accessories are a favourite of overseas purchasers.
Thai pewter ware has been found dating back over 1,000 years and these days handcrafted Thai pewter products are available in a wide range of designs and patterns.
Saa (mulberry) paper is another traditional Northern Thailand handicraft with a wide range of products such as saa paper greeting cards, saa art paper, and saa paper stationary items being made from this 100 per cent sustainable source. By the time the wholesale Thai handicrafts product range was eventually compiled, the descriptions written, and the bugs ironed out of the payment system, more than 12 months had elapsed.
SEO fanaticism versus good business judgment
Just when the wholesale Thai handicrafts website was about to go live, a member of staff presented a new list of keywords that she thought should be used throughout the site and which would provide great SERP rank.
With a large inventory of hand painted Thai silk scarves, hand dyed Thai silk scarves, genuine handcrafted Thai pewter products and sets of Thai saa (mulberry) paper greeting cards, saa paper birthday cards and saa paper Christmas cards already assembled, going back through all of the wholesale Thai handicrafts product descriptions, URL headings, sub-headings and the like and inserting a whole new range of keywords is not a quick task.
Given the potential for the wholesale Thai handicrafts site to generate income, and in light of the fact that in almost 12 months the customised Thailand holiday planning service had not generated one sale, it's fair to say that most business owners would have ditched the customised Thailand holiday planning service and concentrated as much energy as possible on getting the new site finalised and live. Especially given that this was in the months of September, October and November, in other words, a prime selling period for the sort of medium and smaller size purchasers being targeted by the wholesale Thai handicrafts website.
It should be noted that the wholesale Thai handicrafts website was already reasonably well keyworded, had optimised URL titles, H1 and H2 headers, cookie trails and a site map.
The site had already been online for many months (purchasers were not able to place orders) as new wholesale Thai handicrafts and features were added to it, so it had already been crawled and indexed, as well as submitted to numerous directories giving it good page rank in certain organic searches and providing a significant advantage over just dropping a new website onto the web and waiting for it to be crawled.
To suddenly stop the launch and go back and start re-writing the body text for hundreds of wholesale Thai silk fashion accessories, Thai silk scarves, saa paper greeting cards, handcrafted Thai pewter products and Thai handicraft items and change tags and possibly some headers would mean a time delay of several weeks, if not months.
Despite my best advice this is what the company did. The better approach in my mind would have been to launch the site and then tweak any non-performing pages and seeing what the result in organic search listings was.
The end result was the wholesale Thai handicrafts site wasn't launched until well into January, well after the prime selling period for the types of Thai handicrafts the website was set up to sell, and more than 12 months after the project had began.
Given the amount of fanatical work that went into the keywording and SEO of the wholesale Thai handicrafts website, the owner can feel well pleased with his results.
Personally though I would have rather had the wholesale Thai handicrafts website operating and revenue rolling in the doors, especially as a number of new wholesale Thai handicrafts suppliers with larger ranges of products have emerged selling similar wholesale Thai handicrafts, handmade Thai silk fashion accessories, and saa paper greeting cards.
A greater range of wholesale Thai handicrafts and handmade Thai silk fashion items means more product descriptions for genuine handmade Thai silk scarves, hand painted Thai silk scarves, handcrafted Thai pewter and the like resulting in greater keyword density forcing down the lesser range of the Canadian/Thai company's ranking in Serp's.
Not only was a prime selling period for wholesale Thai handicrafts missed, but the hard work for SEO and keywording was not enough to maintain Serp rank.
Feature photo 345Kai (talk)
Related:
The following two tabs change content below.
John Le Fevre is an Australian national with more than 40 years experience as a journalist, photographer, videographer and editor.
He has spent extensive periods of time working in Africa and throughout Southeast Asia, with stints in the Middle East, the USA, and England.
He has covered major world events including Operation Desert Shield/ Storm, the 1991 pillage in Zaire, the 1994 Rwanda genocide, the 1999 East Timor independence unrest, the 2004 Asian tsunami, and the 2009, 2010, and 2014 Bangkok political protests.
In 1995 he was a Walkley Award finalist, the highest awards in Australian journalism, for his coverage of the 1995 Zaire (now Democratic Republic of Congo) Ebola outbreak.
Most recently he was the Thailand editor/ managing editor of AEC News Today . Prior to that he was the deputy editor and Thailand and Greater Mekong Sub-region editor for The Establishment Post, predecessor of Asean Today.
In the mid-80s and early 90s he owned JLF Promotions, the largest above and below the line marketing and PR firm servicing the high-technology industry in Australia. It was sold in 1995.
Opinions and views expressed on this site are those of the author's only. Read more at About me
Latest posts by John Le Fevre (see all)