Advertisement

The death of Leicestershire English teacher Gareth Davies is one of the most needless deaths to have occurred in Thailand in several years and in the final analysis amounts to nothing more than a betrayal in the 'land of smiles', as Thailand so often likes to refer to itself.
With the 2015 Asean Community (AC) rapidly approaching, Thailand desperately needs to ramp up its English language skills if it is not going be part of the flotsam left in the wake of countries such as Singapore, Malaysia, and even Indonesia, and Vietnam.
The current Thailand Government recognises the urgency needed to improve the English language skills of the Thai people and the county's Ministry of Education, the Office of Higher Education, and Office of Private Education (Opec) are all forging ahead with various programmes to achieve this goal.
Private Bangkok English language schools such as English Click in Yanawa, one of Bangkok's oldest English language schools, say that there is an increasing number of inquiries from people wanting to improve their English language skills ahead of 2015.
Abandoned and betrayed in Bangkok
With this rush to catch up, good, dedicated, native English-language teachers are in demand, with various countries trade missions actively promoting vacancies.
However, rather than value those who answer the call, qualified teachers (and others) often find themselves abandoned and betrayed.
Mr Davies was one such man. A man who his students describe as being "very caring", "very patient", and so committed that he spent money buying a laptop computer to help him with his classes instead of looking after his health and seeking treatment for the Crest Syndrome he was afflicted with.
It wasn't just his students who thought highly of him.
In the days following his death various bulletin boards and forums saw numerous tributes posted, particularly from those he worked with in Hua Hin prior to joining Kasem Bundit University, more than a few paying tribute to his ability with a pool stick. Others described him as "very intelligent and perceptive, with a fine, dry sense of humour", and "committed to his students".
Survivable salary
While Mr Davies salary of Bt30,000 (about $US$887) a month is high by working-class Thai standards, it could at best be described as "just sufficient" for a single person with a fairly quiet social life and living in very modest accommodation.
In Bangkok Bt5,000 (£102 / US$169) a month doesn't buy much of an apartment, and is typical of what two, three, or four Thai people share, comprising little more than a four meter x four meter (13 ft x 13 ft) unfurnished room with a private bathroom.
By the time utilities, transport, and meal costs are taken into account there would be little to allow for a lavish life partying in the flesh-spots of Bangkok throwing back over-priced drinks while watching naked teenage girls attempt to feign enthusiasm for their second or third stimulated sex show of the evening.
For Thai teachers the salary is even less and a large portion of Bangkok's nine million people earn well below Bt20,000 (£408 / $648) a month, making the safety nets that are theoretically in place to supplement low wages and lower cost of living increases the country has seen in the past a vital necessity.
In many instances these same safety nets are also available to legally employed foreigners, with access to the public hospital system being one, available to tourists or anyone else who can produce an identity document.
Dual pricing rampant

Sadly many Thai goods and service providers subscribe to the old Zairian belief, that foreigners go to sleep at night and each morning wake up to a bag of money (gold) under the bed. As such dual pricing is rampant.
From the country's national parks to tourist attractions (hint: the local Thai price is generally only displayed in Thai language so if you see a sign near the cashiers window such as in the photo on the right, you may be able to work out how much a surcharge being foreign costs you) under the false presumption that foreigners can afford it.
While Thailand watchers or expatriates on even modest foreign posting allowances might find rants about dual pricing amusing, for thousands of foreigners living and working legally for Thai employers and earning little more than mid-level Thai office staff salaries in baht, it can become a huge burden, making access to social safety nets provided for low to mid income (primarily Thai) earners a necessity.
Like many good foreign teachers in Thailand, Mr Davies built up a close (non-romantic) relationship with some of his students and it was these people who provided him with comfort and support in what turned out to be his dying days, when even his own government ignored his desperate pleas for help.
The betrayal of Gareth Paul Davies
In a series of emails provided to photo-journ's newsblog from one of these students, it is easy to see that Gareth Paul Davies was let down and betrayed by many people, including:
His employer, Kasem Bundit University, who deducted social fund payments from his salary but never enrolled him in the country's Social Welfare Fund
The medical professionals he sought treatment from and who charged him "farang" prices forcing him to postpone or cancel appointments
The Thailand public health system
and finally, and perhaps the most insulting of all, by representatives of Her Majesty's Government in the guise of the British Embassy Bangkok.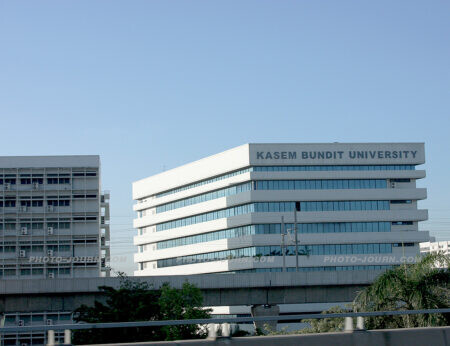 Because they provide a unique insight into the life, trials and tribulations of Mr Davies and are not uncommon for English teachers in Bangkok, photo-journ's newsblog has reproduced some of the emails exchanged between Mr Davies and one of his former students (name redacted), as well as between the student and others in attempts to help Mr Davies with his Crest Syndrome.
The Gareth Davies eMails provide a rare insight into the the life of an English teacher in Bangkok, Mr Davies commitment to his students, and also go part of the way in answering the question of why he didn't fly home before getting so seriously ill.
It's clear to see from the tone and tenor of these emails that low salaries, unclear terms of employment, and financial constraints plagued heavily on the mind of the Leicestershire English teacher for some time.
In a mass email to friends and former students titled "What is wrong with me?", Mr Davies went into great detail explaining his condition, his intentions, and his reasons for staying.
It's pretty sobering reading and provides adequate explanation why he was so well regarded by his colleges, former employers, and students.
Institutional failure
There has already been two stinging Letters to the Editor of The Nation newspaper by Burin Kantabutra, president of the Securities Analysts Associations at The Stock Exchange of Thailand and MBA alumnus of the University of Chicago, Illinois, wherein he has held back little in criticizing Kasem Bundit University (Kasem Bundhit Uni needs to be reined in) and calling for them to be prosecuted for fraud.
An equally stinging letter following Mr Davies' death lambasted the university, the British Embassy Bangkok, and the HRH Princess Maha Chakri Sirindhorn Medical Centre in Nakhon Nayok, (Appalling treatment by hospital).
That various Thai government departments need to urgently investigate the employment arrangements and medical treatment provided to Mr Davies goes without saying.
What is equally so is that the British public should seize upon the unnecessary death of Mr Davies and demand its Foreign Office and diplomatic corps do more to protect its citizens abroad when they are in need, than simply pick up a telephone.
Other nations with significant numbers of citizens employed or living in Thailand should also demand that the Thai authorities take the firmest possible action against those who betrayed the trust Mr Davies placed in them.
Failing any guarantees that it will not happen again, foreign nations should immediately cease recruiting English teachers for the country's schools and universities, or for any other Government to government (G2G) deals.
Feature photo John Le Fevre
Related:
The following two tabs change content below.
John Le Fevre is an Australian national with more than 40 years experience as a journalist, photographer, videographer and editor.
He has spent extensive periods of time working in Africa and throughout Southeast Asia, with stints in the Middle East, the USA, and England.
He has covered major world events including Operation Desert Shield/ Storm, the 1991 pillage in Zaire, the 1994 Rwanda genocide, the 1999 East Timor independence unrest, the 2004 Asian tsunami, and the 2009, 2010, and 2014 Bangkok political protests.
In 1995 he was a Walkley Award finalist, the highest awards in Australian journalism, for his coverage of the 1995 Zaire (now Democratic Republic of Congo) Ebola outbreak.
Most recently he was the Thailand editor/ managing editor of AEC News Today . Prior to that he was the deputy editor and Thailand and Greater Mekong Sub-region editor for The Establishment Post, predecessor of Asean Today.
In the mid-80s and early 90s he owned JLF Promotions, the largest above and below the line marketing and PR firm servicing the high-technology industry in Australia. It was sold in 1995.
Opinions and views expressed on this site are those of the author's only. Read more at About me
Latest posts by John Le Fevre (see all)