Advertisement

Located only 35 kilometres to the east of Bali, the island of Lombok has long had a reputation for being the uncommercialised version of Indonesia's best known tourism destination.
However while Lombok proudly hangs on to its Lombok – Primitive slogan, the primitive nature of its people, one primarily motivated by greed, dishonesty and jealousy, has seen Lombok's tourism appeal reduce significantly in recent years.
Of particular notoriety amongst younger travellers and backpackers has been a group of three Gili's (islands) located off the northwest tip of Lombok.
Named Gili Air, Gili Meno, and Gili Trawangan, the three developed a reputation due to their white-sandy beaches, crystal blue waters and low-cost accommodation.
Because of its wild nightly parties, easily obtainable drugs and the absence of police, Gili Trawangan in particular developed a reputation amongst travellers looking for nights of partying and days sleeping on the beaches in preparation for the next party.
Gili Trawangan was first populated by prisoners in 1891 following a failed rebellion against the Raj of Lombok. In the 70's the government provided prisoners who had completed their sentences with parcels of land on which to grow coconuts.
These days the tradition continues. The difference is that the coconuts the locals harvest today are "white coconuts" – the local terminology for tourists, while not all of the criminals living on the island have ever seen the inside of a jail cell.
Sadly, what was once the epitome of a tropical paradise has degenerated into a grotty little island ruled by a greedy and corrupt group of a dozen intermarried families who live in extraordinary wealth and who treat the Gili Trawangan as their personal fiefdom.
Gili Trawangan mafia
A foreign "mafia" comprising a tight-knit group of English expatriates who own the majority of the Gili Trawangan's diving schools and larger businesses, each having a member of the ruling families as a business partner, in turn supports them.
While the Gili Trawangan still has the same pure white-sandy beaches and crystal blue waters that attracted the first tourists 20-years ago, little else remains the same.
The once thriving Gili Trawangan reef has been decimated – bleached by the effects of El Nino and ravaged by dynamite fishing – considerably reducing the schools of fish that used to abound.
Accommodation on Gili Trawangan has also changed from what early visitors will remember.
The crudely constructed, rustic bamboo huts with open roofed, squat pan fitted bathrooms common in the early years, have now all but disappeared.
Those that remain are in such poor condition and have so many holes poked in the walls to cater to the voyeuristic tendencies of Gili Trawangan locals, that they are undesirable except to those on the tightest of budgets.
While there are still a few guest houses offering mid-range rooms for around Rp80,000 (US$8.60) per night, the trend in recent years has been toward bungalows and rooms with air conditioning and hot water in resort settings priced at more than Rp3 million (US$323.00) per night.
Early visitors to the island will have fond memories of the famous Gili Trawangan magic mushroom shakes and omelettes readily obtainable at many of the small beachfront cafés. Also the plentiful supply of relatively cheap but poor quality Achenes marijuana.
Unfortunately now the pure mushroom shakes have been replaced by those with Arak and Red Bull additives, as Gili Trawangan locals try to find a more powerful and less enjoyable combination.
The result is tourists who often are unable to walk, while others stumble around in their own world, totally unaware of their actions.
More than a few tourists have had a less than enjoyable time as a result, often finding their wallet missing when the effects of the mushrooms have worn off.
Hard drug fuelled hedonistic parties
The increasing numbers of tourists flocking to Gili Trawangan for its hedonistic parties also fuelled a demand for harder drugs.
In recent years ecstasy, "shabu-shabu," or crystal meth, along with heroin has flooded the Gili Trawangan – courtesy of the two younger brothers of a senior Lombok narcotics policeman from the village of Bangsal, the jumping-off point for getting to the island.
It's at Bangsal where many foreign tourists first come to realise that the paradise they are seeking is not the same as they have read of in their vintage edition tourist guides, or the anecdotal tales told by previous travellers.
The official public fare for the boat journey to Gili Trawangan is Rp3,000 (about US$0.32).
However a local group of hoodlums and thugs literally ambush visitors heading for the public ticket office located on the foreshore and on the pretense of being tour guides, extort payments of up to Rp200,000 (US$21.74) out of them for the 45-minute journey.
Visitors of either sex who challenge the high fees or claims that return tickets cannot be purchased on Gili Trawangan are often verbally abused, threatened and physically assaulted.
A separate group of thugs operate as porters in the harbour. The tactic is to seize tourists' bags, load them onto the boats and then demand payments as high as US$ 5 per bag, compared to the local price of Rp500 to Rp1,000 (US$0.05 – US$0.10) per item.
Alcohol, drugs, and sex
While once Gili Trawangan was laid back and carefree, the huge number of tourists over the years has seen an ugly sub-culture fuelled by alcohol, drugs and sex develop.
It's for good reason that mainland Lombokians, as well as those in Bali, warn tourists heading to Gili Trawangan to "be careful of the mosquitoes."
However the mosquitoes euphemistically referred to are not the flying variety, but rather the long-haired "beach-boy" variety who derive their income from sucking tourists' finances dry.
The ploy of the Gili Trawangan beach boys is simple. Describing themselves as "guides," this group of lay-abouts befriend tourists and then guide them to particular bars, restaurants and guesthouses where they receive a commission on every rupiah spent.
The Gili Trawangan beach boys are also the primary distributors of drugs on the island, controlling the sale of everything from marijuana to heroin and crystal meth (ice).
Not all the drugs sold are what they appear to be though. Gili Trawangan is renowned for its "blue garuda" and "pink lady" ecstasy.
However the former is made from rat poison containing strychnine, while the latter comprises two, baby paracetamol fused together with water and an obscure symbol carved into it by the Gili Trawangan 'beach boys'.
While the sale of drugs and commissions can nett the beach boys up to a million rupiah or more a day in the high season, their main income is derived from targeting unsuspecting female tourists.
The general Lombokian view – and Balinese as well for that matter – is that tourists visit Lombok (or Bali) to take drugs and party.
Western females are held in particularly low regard in both Bali and Lombok, with the general view being that they are all nymphomaniacs visiting to have sex with brown-skinned island boys.
The Gili Trawangan beach boys spend their days scouring the beaches and restaurants in search of female tourists – particularly targeting those who are older, less attractive or fat.
Gili Trawangan's playboys
It matters little to them whether the girl is travelling alone, with her boyfriend or in a group.
To overcome obstacles such as this they will work as a team to break up a group of female tourists travelling together with one beach boy targeting each member of the group.
More than a few relationships have ended up on the rocks due of the efforts of the Gili Trawangan's playboys.
After deciding amongst themselves who will target which girl, at night they go in search of their prey. By this stage they will already know the targets name and where she is staying.
Using a variety of charming, lame, goofy or childish means, or just plain persistence, they soon attach themselves to their intended victim.
Before long she is paying for her new "friends" drinks, food and even drugs, and often those of his friends as well.
Though Gili Trawangan business owners claim crime on the island is virtually non-existent, theft, robbery and sexual assault occur more frequently than those with a vested interest in keeping tourists on the island care to admit.
The increased level of drug dependency among Gili Trawangan locals, coupled with jealousy and greed, has seen many a tourist leave the island minus their mobile phone, digital camera, MP3 player and much more.
Theft is not just limited to expensive items. Even used sandals and cheap bracelets are often stolen from guests' rooms. Those items that are not stolen, but desired are simply requested.
Foreign currency, "for my collection"
When it comes to asking for things tourists quickly discover that Gili Trawangan and Bangsal locals are far from shy, and extremely persistent, in their requests for gifts.
Everything from T-shirts and sports shoes to mobile phones and digital camera's are requested as "a memento" of having met someone. Foreign currency "for my collection" is by far at the top of the list.
More sinister is the handful or so of women who each month wake up to find themselves sharing their bed with the friendly Gili Trawangan beach boy who had been entertaining them and organising their drinks the night before.
However not all of the women who wake up in this situation are unwilling participants.
Blinded by the apparent genuine affection many, particularly older women, return to the island annually – or more often to be with their tropical boyfriend.
Many send them money in between to ensure their welfare. It also not uncommon for some to sponsor their island lovers on a visit to their home country. Almost inevitably these sponsored visits end disastrously.
New boatload of tourists, new girlfriend
This does not stop the beach boys from picking up a new girlfriend almost as soon as the old one has left the island.
Many Gili Trawangan locals have more than a dozen women at a time sending them money and emails each month, each believing they are the only one.
While many of Gili Trawangan's beach boys are married to locals, this doesn't prevent them from going so far as marrying visiting foreign women if they think it will earn them more money.
Few of the people who work in the tourism industry on Gili Trawangan actually live full-time on the island and the beach boys are careful to ensure their wives and children stay at home in the village on the mainland.
The intensity and rivalry amongst Gili Trawangan's' playboys when it comes to female tourists is such that fights over women are a regular occurrence at the nightly parties.
Fighting amongst drugged-up or drunken island beach boys is of such magnitude that the two largest party venues collect the identity cards of all locals entering and use uniformed guards, complete with hand-held metal detectors, to curb the number of incidents involving knives.
Gili Trawangan liqueur substitution
Liqueur substitution has also become common at Gili Trawangan's plethora of bars.
Declining tourist arrivals have considerably impacted local businesses and watered down or substituted spirits has become commonplace in even some of the larger establishments.
Abuse of tourists is not limited to just the locally run establishments either.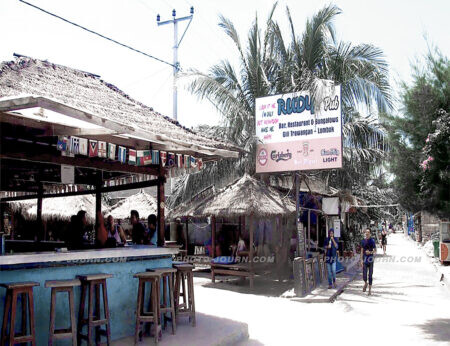 In a classic example of British public schoolboy humour, one English tourist who passed-out at the island's Irish Bar had his 12-year old pony tail snipped off by one of the islands English-owned diving school owners – with the assistance of one of the bars' English owners.
With the exception of the nightly parties, the only other activities on Gili Trawangan are eating, drinking snorkeling, and scuba diving.
Despite the condition of the reef, diving school operators on the island extol the virtues of diving with the harmless black-tip and reef sharks that inhabit the area, along with the occasional manta ray that occasionally swims through.
The truth is that these shark species are readily found throughout Asia and not unique to Gili Trawangan.
Price fixing by British expats
In addition, the price fixing that has been put in place by the English expatriate "mafia" means that all establishments charge the same prices for diving. Tourists usually only discover this after spending half a day so going from one establishment to the other.
The costs have reached such a level that Gili Trawangan is now one of the most expensive locations in Indonesia to undertake a Padi diving course and considerably more expensive than Thailand or even nearby Bali.
A more depressing side to Gili Trawangan is the abject poverty many of the true local inhabitants live in.
The majority of tourists visit and depart the island totally oblivious to the real Gili Trawangan village and permanent island population living behind the ritzy tourist establishments located along the foreshore.
Living in rustic houses slapped together out of wood off-cuts, plastic tarpaulins and cardboard, the majority eke out a subsistence living fishing, raising a few cattle and harvesting coconuts.
Very few tourists are awake when the young children of these residents, dressed in little more than rags, troll through the islands rubbish bins at sunrise collecting empty bottles, aluminium cans and cardboard for reselling.
Not being related to Gili Trawangan's ruling families, nor involved in the tourism or drug industries, these island residents benefit next to nothing from the millions of dollars that are spent each year on the island.
Rather, they have seen their environment devolve to the point where many of them won't let their children walk along the foreshore any longer due to the debauched behaviour of drugged-up and drunken tourists and locals.
For them, paradise was lost a long time ago. For tourists the hunt continues for that much sought after island paradise.
Feature Photo John Le Fevre
Update: Jan 11, 2013
On December 31, 2012 Perth, Australia teenager Liam Davies became seriously ill on Gili Trawangan after drinking what he thought was genuine vodka poured from imported bottles behind the bar at Rudy's on Gili Trawangan.
Mr Liam was transported to Lombok before being transferred to Sir Charles Gairdner Hospital in Perth where he died on January 5, 2013 from methanol poisoning.
Mr Davies is not the only Australian to die after drinking methanol adulterated drinks in Indonesia. Perth rugby player Michael Denton died in Bali in September 2011. In recent months a number of other tourists have died as a result of methanol adulterated drinks in Bali/Lombok, while several others have been left blind.
Dr Naren Gunja, medical director at the New South Wales Poison Centre, says methanol is hard to smell or taste when it is diluted. It does not take much methanol to kill a person, the body metabolises it into a dangerous toxin.
Update:  Feb 3, 2013
Independent scientific testing commissioned by News Ltd, Australia has found Rudy's Bar, the Gili Trawangan venue where Perth carpenter Liam Davies consumed alcohol on New Year's Eve – then died a few days later of suspected methanol poisoning – is still selling vodka containing the potentially lethal chemical while Happy Cafe in Senggigi, Lombok where Sydney nurse Jamie Johnston consumed the traditional Balinese spirit Arak in 2011, then suffered brain and kidney damage, is serving drinks from a bottled labelled Jose Cuervo tequila containing "significant levels of methanol.
Independent scientific testing commissioned by News Ltd last week confirmed also that both businesses are selling alcoholic drinks labelled Malibu rum and Disaronno amaretto containing double the alcohol content as is stated on the source bottles.
In the wake of News Ltd's special investigation, the Australian government last night announced it would revise its official advice provided to Australians visiting Indonesia, and would recommend pre-bottled drinks – such as beer – were the best way to avoid methanol drinks
– Liam Davies, 19, from Perth, died in January this year after drinking a Vodka mix containing methanol from Rudy's Bar and Restaurant on Gili Trawangan.
– Jamie Johnston, then 25 of Sydney, suffered brain damage and kidney failure from a methanol laced jug of Arak from the Happy Cafe on Lombok in September 2011.
– Michael Denton, 29, of Perth died in Sanglah Hospital, Bali, of methanol poisoning after drinking a cocktail on a rugby trip.
– Johan Lundin, 28, a Swedish national, died in June last year after drinking a mojito at Suma Suma bar on Gili Trawangan.
– In 2009, 23 people died in Lombok and the surrounding islands from methanol poisoning.
Related:
The following two tabs change content below.
John Le Fevre is an Australian national with more than 40 years experience as a journalist, photographer, videographer and editor.
He has spent extensive periods of time working in Africa and throughout Southeast Asia, with stints in the Middle East, the USA, and England.
He has covered major world events including Operation Desert Shield/ Storm, the 1991 pillage in Zaire, the 1994 Rwanda genocide, the 1999 East Timor independence unrest, the 2004 Asian tsunami, and the 2009, 2010, and 2014 Bangkok political protests.
In 1995 he was a Walkley Award finalist, the highest awards in Australian journalism, for his coverage of the 1995 Zaire (now Democratic Republic of Congo) Ebola outbreak.
Most recently he was the Thailand editor/ managing editor of AEC News Today . Prior to that he was the deputy editor and Thailand and Greater Mekong Sub-region editor for The Establishment Post, predecessor of Asean Today.
In the mid-80s and early 90s he owned JLF Promotions, the largest above and below the line marketing and PR firm servicing the high-technology industry in Australia. It was sold in 1995.
Opinions and views expressed on this site are those of the author's only. Read more at About me
Latest posts by John Le Fevre (see all)