Advertisement

While Bali has wide international and domestic recognition as Indonesia's holiday island, it is only one of the more than 16,000 islands (or Gilis in Bhasa Indonesian) that comprise the Indonesian archipelago.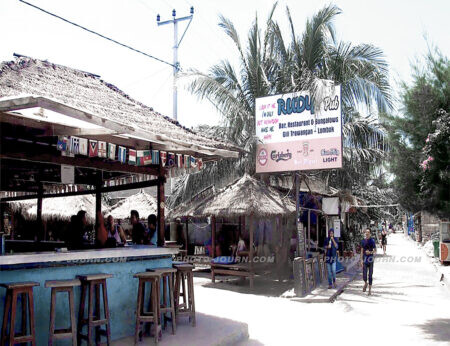 For visitors wishing to experience a little more of what Indonesia has to offer Bali's sister island of Lombok is conveniently located a mere 164 kilometres (about 102 miles), or 20 minute flight, to the East.
With its own international airport, as well as daily ferry and high speed catamaran services from Bali's Padangbai or Benoa harbours, Lombok is attracting an increasing number of tourists annually.
While many find Lombok a pleasingly sedate change to the commercialism of Bali, the smaller Gili's located off Lombok's coast are also garnering an increasing number of foreign and local tourists.
One of the most popular of these is Gili Trawangan, one of three Gili's located off the north western tip of Lombok.
Gili Trawangan a prison island
Measuring just three kilometers long and two kilometers wide, Gili Trawangan remained unpopulated until 1891 when 350 Sasaks were exiled there after a failed rebellion against the Raj of Lombok.
These first inhabitants were followed by ten or 12 Bugis families from Sulawesi in the early 1970's, who set up camp and established fishing and farming activities on the island.
With a small community already established, the Government in Lombok again focused on Trawangan, providing plots of land to prisoners who had completed their sentences but with no homes or families to return to on which to grow coconuts.
Even after the first tourists, primarily backpackers, started arriving in the mid-1980's, the island generated the majority of its income from harvesting coconuts, as well as producing charcoal from coconut husks.
These days the inhabitants of Lombok half-jokingly claim those on Gili Trawangan generate the majority of their income from harvesting white-coconuts — the foreign tourists who travel there from all over the world on the word of mouth recommendations of those who have preceded them.
Whereas once the island's visitors primarily comprised backpackers on worldly expeditions, today the island attracts a broad cross-section of travellers lured by the island's sandy beaches, excellent snorkeling and diving, and deep cyan blue waters.
While early visitors to the tiny island might remember crudely constructed bamboo huts and open roofed, squat pan fitted bathrooms things have changed.
Accommodation on Gili Trawangan today ranges from the primitive, priced between Rp10,000 to Rp30,000 per night, to air conditioned bungalows with hot water in comfortable resort style settings at up to Rp750,000 per night and everything in between, depending on seasonal price fluctuations.
Seven dive schools cater to the diving needs of tourists, offering the complete range of Professional Association of Diving Instructors (PADI) accreditation courses, as well as fun dives for those already certified.
Trawangan adventures
Divers are able to regularly swim with blacktip and whitetip reef sharks, giant Mantas and turtles, and even the occasional whale shark, while those who prefer to just drift in the currents with a snorkel, fins and mask are never left disappointed by the more than 6,000 species of marine life, including turtles, living just off-shore.
Though dynamite fishing and various bouts of El nino have combined to damage much of the hard coral close to shore, soft coral re-growth is very evident. Impressive hard coral formations, including spectacular blue coral, are found at numerous popular dive sites around the island.
At night the Gili Trawangan waterfront comes alive when the various foreign and local run restaurants and bars start to fire up, with fresh snapper, grouper and tuna cooked over charcoal flames readily available.
While the island once had somewhat of a reputation amongst the back-packing community as a wicked party destination, many of the establishments that once laid claim to hosting wild dance parties are today trading on their reputations.
One late-opening party venue per night
By tradition only one establishment per night can play music and host dance parties until 4.00 am, the establishment paying for the privilege, and today this tradition continues.
Of the seven weekly venues that host parties, the one that is looked forward to most by tourists and locals alike is the Funk, House and Hard house music parties at the Blue Marlin dive centre on Monday nights.
If wild dance parties are not to your liking many restaurants and bars, including the largest Irish bar on the smallest island outside of Ireland, Tir Na Nog, provide a range of more sedate and social gathering points for el fresco dining and drinking by the waters edge.
Though the island is predominantly Muslim, eastern religion and western tourism requirements blend in a harmonious mix that should be the envy of many other world destinations.
An added bonus for those seeking a quieter and stress free holiday destination is the total ban under island law of any form of powered vehicles. Rather than noisy, polluting motor cars and motor bikes, transportation around the island is by horse drawn carts (called cidomo) or by bicycle.
An ideal getaway
With spectacular sunrises as the sun emerges from behind Lombok's Mount Rinjani volcano and breathtaking sunsets that illuminate Bali's towering Mt. Agung volcano, together with the warm hospitality of the Gili Trawangan residents and it is not surprising that most visitors end up staying longer than they had originally planned.
While the island is busiest from May through August, the quieter off-season from January to April provides a better opportunity to enjoy all that Gili Trawangan has to offer. Accommodation prices are also at their lowest levels during this period.
An added bonus of visiting in the quieter off-season is that with fewer tourists there is more time for the local inhabitants to extend to tourists the true hospitality of the island.
A few bottles of rum or vodka and a couple of acoustic guitars by the waters edge under the stars is one event that visitors to the island in the quieter period are more likely to be invited to join than in the busier months later in the year.
Though the island has no police station or military post, crime is extremely rare.
An island funded un-uniformed community policing group, Satgas, ensures the security and safety of visitors. In the rare event of someone breaking the law or disturbing tourists perpetrators are handed over to police on Lombok, as well as face banishment from the island for up to five years.
Development on the island has reached nowhere near the saturation or commercialism of other popular island destinations, such as Koh Samui or Ko Phan Ngan in Thailand, and island laws in place will hopefully maintain the past restrictions.
After seeing Bali from Bali, the island of Gili Trawangan gives tourists the opportunity of also seeing Bali from Lombok. Unfortunately visitors to Bali cannot do the opposite.
Getting to the Gilis
Daily ferry service from Padangbai in Bali to Lembar in Lombok and shuttle service to Bangsal harbour though a tourist agent such as Perama.
Note: A number of tourists have complained of harassment at Padangbai by overzealous porters and hawkers.
Daily high-speed catamaran service from Benoa harbour in Bali to Lembar and/ or Gili Meno by either Mabua Express or Bounty Cruises.
By air from Bali's Ngurah Rai International Airport to Mataram's Selaparang Airport by Air Mark, Garuda, or Merpati several times daily (about Rp230,000) and then by public taxi to Bangsal harbour (Rp40,000) and then public boat (Rp3,000,) or by private charter boat (Rp58,000) to Gili Trawangan.
Note: Avoid the hawkers and touts at Bangsal harbour and purchase your boat tickets directly from the harbour masters office on the beachfront.
Feature photo My Five Acres
Related:
The following two tabs change content below.
John Le Fevre is an Australian national with more than 40 years experience as a journalist, photographer, videographer and editor.
He has spent extensive periods of time working in Africa and throughout Southeast Asia, with stints in the Middle East, the USA, and England.
He has covered major world events including Operation Desert Shield/ Storm, the 1991 pillage in Zaire, the 1994 Rwanda genocide, the 1999 East Timor independence unrest, the 2004 Asian tsunami, and the 2009, 2010, and 2014 Bangkok political protests.
In 1995 he was a Walkley Award finalist, the highest awards in Australian journalism, for his coverage of the 1995 Zaire (now Democratic Republic of Congo) Ebola outbreak.
Most recently he was the Thailand editor/ managing editor of AEC News Today . Prior to that he was the deputy editor and Thailand and Greater Mekong Sub-region editor for The Establishment Post, predecessor of Asean Today.
In the mid-80s and early 90s he owned JLF Promotions, the largest above and below the line marketing and PR firm servicing the high-technology industry in Australia. It was sold in 1995.
Opinions and views expressed on this site are those of the author's only. Read more at About me
Latest posts by John Le Fevre (see all)