Advertisement

Cambodia's Minister of Commerce, Sun Chanthol, has signalled the aggressive approach his country is taking in luring foreign direct investment (FDI) in a punchy interview with CNBC's Squawk Box on the sidelines of the 18th Credit Suisse Asian Investment Conference in Hong Kong.
In a smoothly delivered exchange with Squawk Box anchor Bernie Lo, Mr Chanthol, a graduate of the Wharton School of Business (University of Pennsylvania), succinctly highlighted the major advantages Cambodia offers, particularly over its neighbour Thailand, where FDI in the first two months of this year fell by 72.58 per cent YoY to just Bt17 billion (about US$ 521.893 million).
Addressing the gripes of many existing and potential Thailand foreign investors Mr Chanthol effortlessly rattled off: "Cambodia provides the investor with:
Political stability
Macro economic stability with high-growth
Low inflation
A stable exchange rate
Low debt to GDP rate
An investment law that provides very generous investment incentives
No exchange control
No alien business law – every economic sector is open to foreign investors
Foreign investors can own 100 per cent of their business or enter into joint ventures
Money can easily be transferred into or out of the country
A young, dynamic and hard working work force with an average population age of 24.1 years, ensuring another 30 years of a productive workforce,
Strategically located in the heart of Asean
Acknowledging the sunset nature of the country's current high reliance on the garment industry, Mr Chanthol said the recently Cabinet approved Industrial Development Policy 2015-2025 aimed at taking Cambodia to the next level in economic development over the next decade.
Upskilling labour force
"We aim to move away from low-skilled labour intensive industries to semi-skilled and manufacturing-based industries such as food processing industries, electrical, and electronic component assembly. Industries where we can create better paying jobs for our people.
"At the same time we can't ignore the garment industry which currently employs over 700,000 workers and produces more than $ 5.5 billion dollars in exports. We need to move this upstream" he said.
On the authoritarian iron-fisted control long-term Prime Minister Hun Sen apparently has over the country and allegations of human rights abuses, Mr Chanthol addressed the issues head on.
"Under his [Prime Minister Hun Sen's] watch the country has grown at 7- 7.5 per cent. The country is peaceful. We attract FDI to the country. We create jobs for our people.
"In 1979 when Hun Sen went to Phnom Penh to liberate Cambodia [with the assistance of the Vietnamese army] from the Khmer Rouge there were only 70, seven zero, people living in Phnom Penh. Today it's over 1.5 million. There are areas that need to be improved, but overall he has done a great job for the country", Mr Chanthol added.
A "growth Olympian"
Listed by the World Bank as an economic "growth Olympian", Mr Chanthol told Mr Lo that "Cambodia is the sixth fastest growing country in the world", with an "average growth rate over the last 20 years of 7.7 per cent.
Despite Cambodia being one of 21 founding members of the China-led Asia Infrastructure Investment Bank (AIIB) and China being Cambodia's largest single foreign investor, Mr Chanthol denied this made the country too reliant on the PRC.
"We're happy to have a new agency to look to as a funding alternative to the World Bank and/ or ADB (Asian Development Bank). To us money doesn't have any colour.
"Funding from AIIB for our infrastructure, or funding from the World Bank or from the ADB, we'll take them all in order to build our infrastructure. In order for us to have an efficient infrastructure, lower the cost of logistic in order for us to attract FDI to our country and to provide jobs for our people", Mr Chanthol said.
Obstacles remain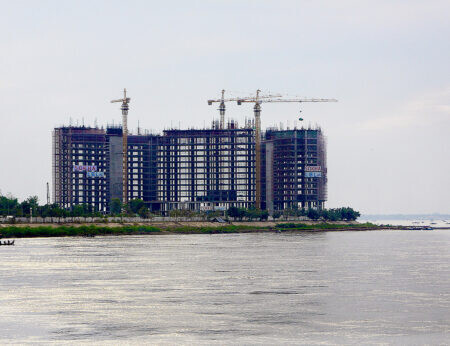 While Mr Chanthol may have done an awesome job in his six minute FDI offensive, some of the obstacles that are hampering Cambodia's growth surfaced just the following day.
According to the World Justice Project (WJP), a Washington-based rule of law non-governmental organisation (NGO), Cambodia ranks 102 out of 102 countries in its freshly released 2015 WJP Index for mechanisms through which complaints can be lodged against government officials, and 98th out of 102 in the sanctions applied to officials' misconduct.
With an overall rating of 98 out of 102 in the 2015 WJP Index and a score of 21 and ranking of 156 out of 174 countries in Transparency International's (TI) 2014 Corruption Perceptions Index (CPI), Cambodia would appear to have several significant obstacles to overcome if it is to meet its aim of moving to the next level in economic development over the next decade.
In 2014 Cambodia reported a GDP of $16.9 billion representing an annual growth rate of 7.18 per cent. This is expected to grow by up to 8.58 per cent to $18.35 billion this year.
In 2014 Cambodia attracted about $4 billion in FDI, about the same as it attracted in 2013. The garment sector accounts for about 80 per cent of Cambodia exports while textiles, petroleum products, and vehicles are major import categories. The country is heavily reliant on imports for industrial input products and daily commodities.
Feature video CNBC
Related :
An earlier version of this story was published in The Establishment Post in March 2015 as Cambodia Launches FDI Offensive at Asian Investment Conference
The following two tabs change content below.
John Le Fevre is an Australian national with more than 40 years experience as a journalist, photographer, videographer and editor.
He has spent extensive periods of time working in Africa and throughout Southeast Asia, with stints in the Middle East, the USA, and England.
He has covered major world events including Operation Desert Shield/ Storm, the 1991 pillage in Zaire, the 1994 Rwanda genocide, the 1999 East Timor independence unrest, the 2004 Asian tsunami, and the 2009, 2010, and 2014 Bangkok political protests.
In 1995 he was a Walkley Award finalist, the highest awards in Australian journalism, for his coverage of the 1995 Zaire (now Democratic Republic of Congo) Ebola outbreak.
Most recently he was the Thailand editor/ managing editor of AEC News Today . Prior to that he was the deputy editor and Thailand and Greater Mekong Sub-region editor for The Establishment Post, predecessor of Asean Today.
In the mid-80s and early 90s he owned JLF Promotions, the largest above and below the line marketing and PR firm servicing the high-technology industry in Australia. It was sold in 1995.
Opinions and views expressed on this site are those of the author's only. Read more at About me
Latest posts by John Le Fevre (see all)