Advertisement

A Leicestershire English teacher's commitment to his Thai students may cost him his life after falling ill in Bangkok, Thailand and then finding his employer, a private Bangkok university, hadn't made the obligatory contributions it had been deducting from his salary to the country's Social Welfare Fund, which guarantees medical cover for all legally employed staff.
After five years teaching at Apex Works in Leicestershire, Gareth Davies from the village of Glennfield, set off to pursue his desire of teaching English as a second language in Thailand.
About nine months ago the Leicestershire English teacher accepted an appointment to the department of English language for communications at Kasem Bundit University, one of Thailand's numerous private universities, to teach English major to undergraduate students.
Though the monthly salary of Bt30,000 (about £617 / US$977) was far from extravagant by Bangkok standards, the 47-year-old Leicestershire English teacher was happy pursuing his goal, even though his employer made him pay the cost of obtaining his own work permit and visa extension.
About one year ago Thai doctors pieced together a wide range of auto-immune-type ailments that had been plaguing Mr Davies for many years and which numerous UK GPS had failed to identify, determining he was suffering from Scleroderma (Systemic Sclerosis) or CREST Syndrome, a connective tissue disease that involves changes in the skin, blood vessels, muscles, and internal organs.
In the wake of an emergency hospital admission towards the end of January the Leicestershire English teacher announced in an eMail to friends and colleagues titled "what is wrong with me", that his "heart, kidney, and lungs are also being affected".
Leicestershire English teacher's dedication his downfall
With the Thailand university academic year due to conclude at the end of this month, Mr Davies told friends he hoped to finish his contract in Bangkok and guide his students through their exams, mark final exam papers, and then return to the UK for the high level care he will need.
The Leicestershire English teacher's commitment to his work has proved to be his downfall however and on March the second he was rushed from the university unconscious and unable to breathe to a private hospital ICU ward.
It was then that the nightmare began in earnest for Mr Davies.
Thailand labour law is extremely extensive and provides the minimum employment conditions for all employees, including the mandatory contribution to the country's Social Welfare Fund. Likewise the Thailand Social Security Act contains detailed descriptions of what safety net is provided to employees.
It was only after several days in ICU and after Mr Davies' brother, Michael, flew to Bangkok, that problems with the Leicestershire English teacher's social fund coverage became apparent.
According to Michael Davies, the Bangkok hospital where his brother was first taken provided excellent care, but a few weeks of hospitalisation saw the bill sky-rocket to more than Bt250,000 (£5,000 / US$8,000).
University pocketed insurance deductions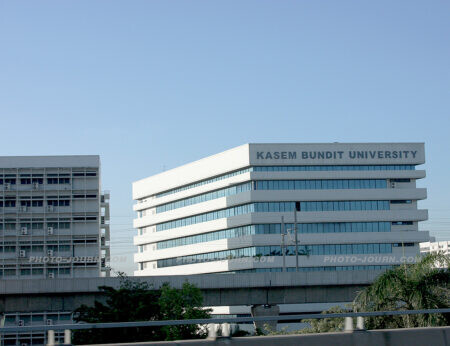 "I was told by the university that Gareth had no Social Welfare Fund cover because he had not been employed for more than a year, though the Thailand Social Security Act says everyone is covered from the day they start work, or receive their work permit", Michael said.
Michael said his brothers students quickly rallied around him and raised more than Bt80,000 (£1.640 / US$2,600), with more than Bt27,000 (£555 / US$880) being raised by the Chair for the department of English communications at Kasem Bundit University, Ajarn Nuchamon James.
"The money raised by Gareth's students, colleagues, and friends, together with what money I had, enabled me to settle most of the bill with the private hospital he was in and have him moved to a public hospital outside of Bangkok where the daily costs are much less. If we wouldn't have been able to come up with a lot of cash to pay most of the bill I don't think they were going to let him be transferred", Michael said.
With Michael running up additional expenses of his own for accommodation, transport and meals, his funds rapidly became exhausted so he returned to the UK where he is employed by the Student Union at UC Plymouth Marjon, to see what funds he can raise from his friends.
"There's only me and him", Michael said, "our mum died last year and just before Gareth went back to Bangkok he broke out in red blotches on his hands and face, but his only concern was getting back to Thailand to take his students into their exams".
Michael says his greatest fear is that the hospital where his brother has been moved to, the HRH Princess Maha Chakri Sirindhorn Medical Centre more than 70km (43 miles) from the heart of Bangkok in Nakhon Nayok Province, may discharge his brother if his bills aren't paid.
Pick him up and bluff him onto a plane doctor tells brother
"I've got an email from his doctor that seems to be saying that i should just pick him up and bluff him onto a plane. You've seen him. He can hardly move. What airline is going to let someone on who can't even wipe his nose onboard?", Michael said.
When Mr Davies informed his friends at the end of January of his plans to return to England he noted that his weight had dropped from 70kg (154lb) to 52kg (114lb). He now says he weighs 46kg (101lb) and is unable to move without a support frame. "My bum is so boney it's painful to even sit on a plastic chair" in the breezeway of the public ward he shares with nine other people, he said.
Mr Davies said he was extremely disappointed that no one from the university administration had contacted him since he was whisked away in an ambulance, while he said the lack of Social Welfare Fund coverage should serve as a serious warning to anyone else contemplating employment in Thailand.
Ministry of Labour staff employed in the foreign section were surprised and alarmed to hear of Mr Davies' situation when alerted by this author and a Thai friend of Mr Davies, rapid;y firing off a letter outlining the situation to the district director responsible for where Mr Davies was employed to investigate.
The year of speaking in English in Thailand
"This is supposed to be the "year of speaking in English in Thailand", Mr Davies said, noting that the Thai "government is making all sorts of grants available to schools to employ foreign English teachers to raise English language usage in the countdown to the Asean Community coming into effect in 2015. However, universities such as Kasem Bundit don't even make the contributions they are supposed to, to give foreign teachers the same rights that every Thai factory worker has", Mr Davies said.
The British Ambassador to Thailand, Asif Ahmad, said more than 850,000 British tourists visit Thailand each year, with many staying for extended periods of time.
"We advise all tourists to ensure they have adequate medical insurance for Thailand, as regrettably the UK Government cannot pay for medical treatment, and many hospitals require a large cash deposit from foreign patients before medical treatment will be provided".
Back in Plymouth Michael Davies said his trip to Thailand early this month has "left me penniless", with "no idea how I am going to keep paying the medical bills, let alone find the £20,000 or more needed for an air ambulance flight back to the UK.
Repeated attempts to speak with officials of Kasem Bundit University, which has a memorandum of understanding for teacher and student exchange with Edinburgh Napier University and the International Institute of Hotel Management, went unanswered.
Feature photo Wikipedia
Related:
Help: Anyone wishing to assist with Gareth's medical bills and / or the cost of repatriating him to the UK can make a MoneyGram payment to Mick Davies at the Ivybridge Post Office, 2 Glanvilles Mill, Ivybridge, Devon, PL21 9PS, or in Thailand to
Account name: Gareth Davies
Bank: Kasikorn Bank
Acct No. 657-208-3533
The following two tabs change content below.
John Le Fevre is an Australian national with more than 40 years experience as a journalist, photographer, videographer and editor.
He has spent extensive periods of time working in Africa and throughout Southeast Asia, with stints in the Middle East, the USA, and England.
He has covered major world events including Operation Desert Shield/ Storm, the 1991 pillage in Zaire, the 1994 Rwanda genocide, the 1999 East Timor independence unrest, the 2004 Asian tsunami, and the 2009, 2010, and 2014 Bangkok political protests.
In 1995 he was a Walkley Award finalist, the highest awards in Australian journalism, for his coverage of the 1995 Zaire (now Democratic Republic of Congo) Ebola outbreak.
Most recently he was the Thailand editor/ managing editor of AEC News Today . Prior to that he was the deputy editor and Thailand and Greater Mekong Sub-region editor for The Establishment Post, predecessor of Asean Today.
In the mid-80s and early 90s he owned JLF Promotions, the largest above and below the line marketing and PR firm servicing the high-technology industry in Australia. It was sold in 1995.
Opinions and views expressed on this site are those of the author's only. Read more at About me
Latest posts by John Le Fevre (see all)